At Arbor Vista we believe that the focus on customer loyalty is one of the most critical things a company should be addressing.  This conclusion is based on the extensive research that was the basis of Net Promoter Systems® published in the book "The Ultimate Question".
Based on this premise we are announcing our latest partner relationship with Satmetrix®, the leading provider of Customer Experience Management and Net Promoter Score software.  As part of this relationship Arbor Vista has entered into a partnership agreement to resell the Satmetrix Customer Experience Management software and provide implementation consulting services.
Should your company care about customer loyalty?  We think the answer is "yes" and is backed by research noted in the following partial repost of an excellent post from the Satmetrix's blog:
Did you know that it costs 6-7 times more to acquire a new customer than retain an existing one?

And did you also know that: "Totally satisfied" customers have a repurchase rate that is 3-10 times higher than that of a "somewhat satisfied" customer?

This means that if you've made sure to delight your current customers they're more likely to continue working with your organization in the future and spend more money with you. It's as simple as that.
To read the excellent full blog post, please click here.
With the Satmetrix CEM software you can drive significant improvements in your business.   What kind of results? Here's a sampling:
– tw telecom cut churn to a low of 0.8%, and achieved a 70% improvement in NPS since 2008.
– RagingWire maintains a 98% retention rate.
– Close to 30,000 aggreko customers responded with a 9 or 10 out of 10 on the "How likely are you to recommend" Net Promoter question.
– Safelite increased its revenue by $74M after the first year of measuring NPS.
– Elion grew from 0 to 37% TV market share and is now just 4% behind the market leader.
– HouseMaster increased its revenue 15% in a single year.
Here are several reasons that Satmetrix is the industry leader in the CEM arena.
– Focus on the Closed Loop Process
– Extensive and customizable dashboards and reports
– Leadership that comes from being the co-inventor of NPS
Words are wonderful, but images tell more of the story.  Here are some examples of the functionality brought by Satmetrix's CEM solution.
Automated Dashboards Provide Feedback Across Touchpoints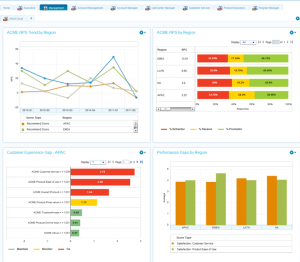 View Feedback Across Locations, Segments, Regions, etc.

Spotlight Individual Performance

Triggered Emails
Key Drivers of NPS Are Automatically Identified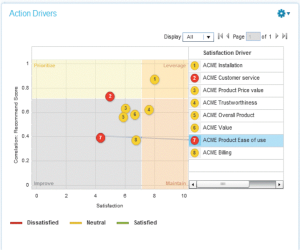 Closed Loop Workflow

Root Cause Analysis and Customer Themes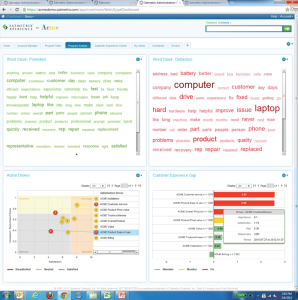 Heat Map Analysis of Various Locations, Regions, Customer Segments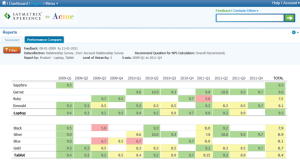 Contact Us For Your Personalized Demo
Arbor Vista Consulting is a reseller of the Satmetrix Customer Experience Management software. Contact us here if you are interested in a demo and a more detailed discussion of how can enable your company to drive significant improvements in your business and improve your customer loyalty.
© 2014 Satmetrix Systems, Inc. All rights reserved. Net Promoter, Net Promoter Score, and NPS are trademarks of Satmetrix Systems, Inc., Bain & Company, Inc., and Fred Reichheld. Satmetrix SparkScore and SparkScore are trademarks of Satmetrix Systems, Inc. All other trademarks are the property of their respective owners